HSA Corporate
Private Label Men's Grooming Products for Your Hair Care Line
When it comes to crafting the perfect grooming routine, it's not just about looking good; it's about feeling good too. At HSA, we understand that men's grooming is not a one-size-fits-all scenario. That's why we offer a wide array of private label men's grooming products, allowing you to tailor your line to meet the diverse needs and preferences of your customers.

In this article, we delve into:

HSA, men's grooming private label manufacturer
When you choose HSA as your men's grooming private label manufacturer, you're not just selecting products; you're making a statement about the quality and care your brand represents. Our commitment to excellence shines through in every product we create, and our dedication to crafting natural, effective grooming solutions ensures that your customers look and feel their best every day.
With our extensive experience in the hair care industry, we have the expertise to turn your unique vision into a reality.
Our personalization service puts the power in your hands. Choose from a diverse range of formulations and fragrances, allowing your grooming products to not just enter the market but steal the spotlight.
From the initial idea to the final product, we handle every facet of the manufacturing process with unmatched precision and efficiency.
Customization is at the core of our philosophy. In an industry that thrives on innovation and distinctiveness, personalization provides our clients with a competitive advantage. It empowers them to offer exclusive private label products that not only meet but surpass the ever-evolving expectations of consumers, keeping them at the forefront of the competition.


Are you ready to explore these trends and revolutionize your brand's men's grooming offerings? Let's embark on this exciting journey together. Download our ebook!
The best products you can develop for men's grooming
Imagine having a lineup of grooming products that cater to every aspect of a man's daily routine.
Well, you don't have to imagine it!
HSA can make it a reality for your brand. Here's a sneak peek at some of the essentials your private label men's grooming line can include:
Aftershave Lotions, Gels, and Balms - these products soothe and hydrate the skin after a clean shave. Our formulations are designed to minimize irritation and leave the skin feeling refreshed
Beard Balms, Creams, and Oils - the beard game is strong, and our products keep it that way. Whether your customers are going for a rugged look or something more refined, we've got the right grooming solution

Read also: Private Label Beard Wash
Mustache Waxes - tame unruly whiskers with precision. Our mustache waxes offer the hold needed for a dapper 'mustache
Hair Gels - from slicked-back sophistication to tousled texture, we've got the gel that holds your customers' style all day long
Hair Products - from shampoos to conditioners to serums, we've got you covered. Our hair products are formulated to address various hair types and concerns, ensuring that your customers always put their best hair forward.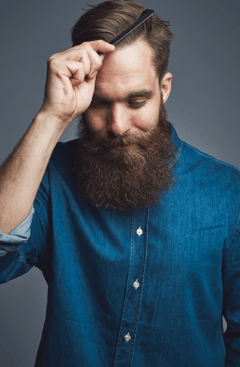 Natural ingredients for private label men's grooming
What makes our private label men's grooming products truly exceptional? It's the careful selection of ingredients that delivers both style and substance. We believe that effective grooming should also be gentle on theskin and hair.
Here are some of the natural ingredients that take our products to the next level:
Hydrolyzed Wheat Proteins - these proteins strengthen and nourish hair, making it more manageable and resilient
Vitamin E - as an antioxidant powerhouse, Vitamin E protects the skin and hair from damage while keeping them hydrated
Peppermint - known for its invigorating properties, peppermint stimulates the scalp and leaves a refreshing tingle that awakens the senses.
Tea Tree Oil - with its antibacterial and antifungal properties, tea tree oil is a game-changer for skin and beard care, combating everything from dandruff to acne
Avocado and Coconut Oil - these natural oils are packed with nutrients that hydrate and condition hair and skin, in fact, they represent the secret to a soft beard and healthy hair
Lavender Oil - known for its calming scent, lavender oil adds a touch of relaxation to your customers' grooming routine.
It's time to make a lasting impression in the world of men's grooming, and we're here to help you do it!


CONTACT US TO DISCOVER THE PRODUCT OF YOUR DREAMS