HSA Corporate
Cosmoprof Cosmetics 2022: where beauty takes the next level!
Cosmoprof Cosmetics is getting closer and closer! The most interesting and sensational event in the beauty industry will open its doors to the professional public from 28 April to 2 May in Bologna, and HSA will be ready to welcome you there! Find out everything about this event and our participation details. We can't wait for you to join us!
In this article we're going to cover:
What is Cosmoprof Cosmetics?
Cosmoprof Cosmetics is the most famous and important perfumery and cosmetics exhibition in the beauty industry. It's an amazing opportunity for international brands to showcase their innovative and high-quality products and lines.
As one of the biggest fairs in the field, people will be able to find such a broad offer! There will be thousands of products with several effects that can effectively tackle each and every skin and hair issue.
Cosmoprof Cosmetics is not only for veterans but also for emerging brands looking for endless opportunities to get established on the market. In fact, today it boasts more than 10.000 exhibitors involved and over 500.000 professionals engaged!
There are 5 worldwide Cosmoprof Cosmetics branded shows, and the main one of these takes place at BolognaFiere in Bologna, Italy. This year it's the 53rd edition and will be held from 28 April to 2 May.
The Bologna fair will be actually composed of three different trade shows, according to the industry, products, companies, and distribution channels concerned:
Cosmopack, a show dedicated to the cosmetics supply chain – which means raw materials, components and formulations, contract and private label manufacturing, automation, and full services offered.
Cosmo Perfumery & Cosmetics, an event conceived for perfumery and cosmetics brands and manufacturers operating in different retail channels.
lastly, Cosmo Hair & Nail & Beauty Salon, which offers interesting insights for distributors, owners, and professionals that are active in the world of hair, nails, and beauty spas.


Which beauty trends and new products are we expected to see?
As a leading event in the beauty industry, Cosmoprof Cosmetics offers an avant-gardist perspective on the newest and most requested trends and products on the market.
For example, some of Cosmoprof Cosmetics' pavilions will be focused on:
green and organic products, showcasing new, performing solutions and textures that are achieving unprecedented results in this field
men's cosmetics, a rising trend with a lot of potential for beauty brands. This pavilion will focus on beard grooming, haircuts, colors, and looks
But that's not all! Apart from being attentive to trends and products, Cosmoprof Cosmetics also offers a huge variety of seminars and educational events about innovation and excellence. These represent the best opportunity to learn and share ideas, inspirations, and discussions.
Especially, Cosmoprof Cosmetics' talks will concern:
trends in the skin and hair care field
digital innovation
new developments in the cosmetics market
communication strategies



Cosmoprof Cosmetics: HSA's gonna be there!
Of course, HSA couldn't miss this amazing opportunity! Since we're hair and skin care manufacturers contributing to shaping the future of our industry, we are participating in Cosmoprof Cosmetics with our incredible wealth of formulations and products.
Specifically, we will be joining Cosmoprof Cosmetics on two occasions:
for Cosmopack, from 28 April to 1 May, where you can witness our private label hair & skin care solutions. You can join us at our Innovation Hub - Private Label in Hall 18, Stand B26.
for Cosmo Hair, Nail & Beauty Salon, from 29 April to 2 May, where this time we'll show you our extraordinary hair care branded products. You can join us at our Corporate Hub- Brand in Hall 25, Stand A26-B27.
You will get to know all the news we have developed for 2022 and 2023 in terms of made in Italy products, formulations, and ingredients. As you should already know, we're leaders in the cosmetic industry and our 40 years of know-how can attest to that.
One last thing: our Hair Reborn Elixir – which we have developed among our Addmino-18 line – has made the finals of the Cosmoprof Awards 2022, over more than 600 products! I mean, if this won't convince you that HSA is the most valid cosmetic manufacturer, I don't know what else can!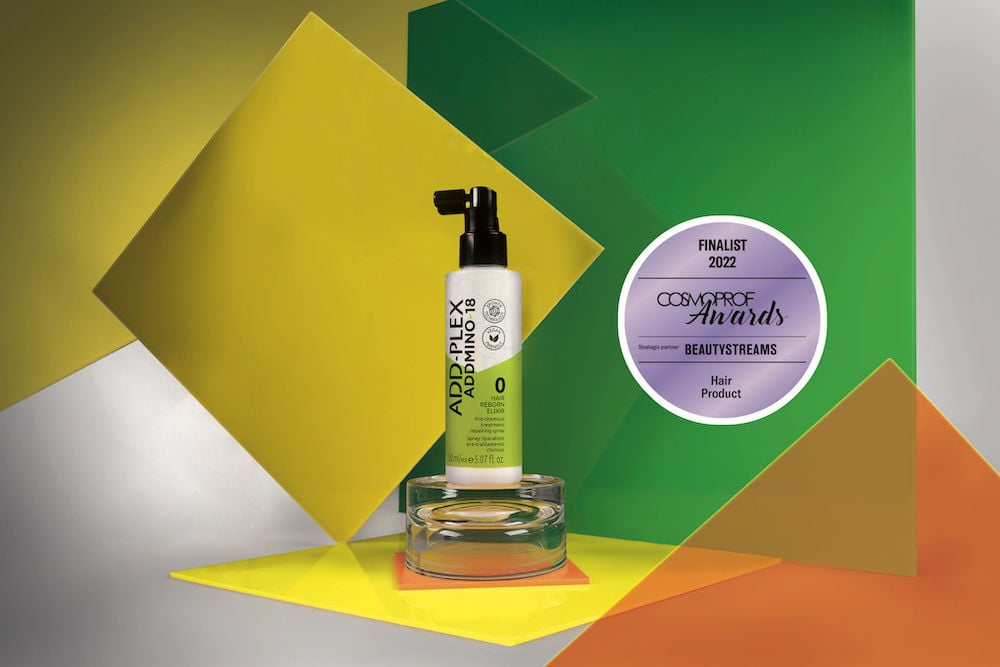 So, did you get all the information right? Don't hesitate and come see us at Cosmoprof Cosmetics, then!


Otherwise, ask us everything you need to know
CONTACT US TO DISCOVER THE PRODUCT OF YOUR DREAMS